Our professional, experienced team can accurately inspect and repair storm damaged roofs throughout Gastonia, NC.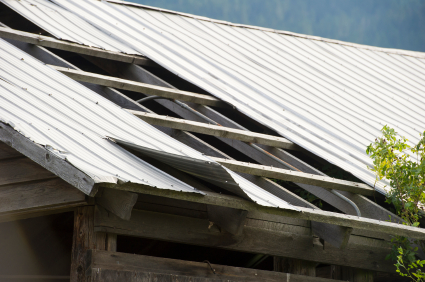 Storm damaged roofs are one of the most potentially dangerous problems caused by inclement weather. After a severe storm of any type, it's important to have your roof inspected as quickly as possible. This will help you determine exactly how extensive the damage is, and how long it will take to return your roof back to its former condition.
When inspecting storm damaged roofs, be sure to keep an eye out for the following:
Shingles that are loose or missing – These shingles can allow water to either enter into the attic space or to infiltrate the undersides of neighboring shingles.
Metal flashing that is either loose or missing — This can allow water up into and under the eaves and shingles, causing water damage, a problem which can lead to mold, mildew, and rot.
Misaligned joints– If the roof has been damaged or dislodged, the joints of the roof will be the first to become misaligned or exhibit strain.
When it comes to storm damaged roofs, at Race City Roofing, we can meet all of your inspection and repair needs in the Gastonia, North Carolina area. With over two decades in business, you can rest easy knowing that we will accurately inspect your roof for damage and come up with an effective plan for repair.
The next time your roof incurs storm damage, leave things up to our experienced, professional team. For more information about our roofing services and how we can assist you, give us a call at Race City Roofing today.
---
Race City Roofing is the #1 roofing contractor in the Charlotte, NC area. We offer a wide variety of professional & affordable roofing services including, "Storm Damaged Roofs" for Charlotte, Mooresville, Gastonia, Hickory, Cornelius, Huntersville, Denver, Troutman, Statesville and Lake Norman.