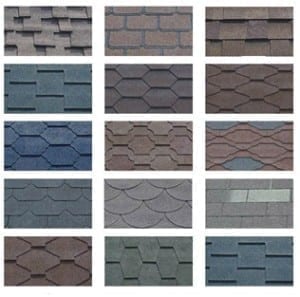 Although there are different materials you can choose for your roof shingles, asphalt is by far the most popular, due to its low cost and high durability. But who says you can't have some fun with asphalt? Thanks to the awesome engineering of today's roof makers, you are not limited when it comes to the color or style of your roof shingles. Now you can have the low cost of asphalt, but still get the look of slate or wood.
If you're not sure which roof shingles would look best on your home, check out this awesome tool from GAF, one of the top roofing material companies. You can upload a picture of your home or choose one from their selection that looks like yours. Then you can "try on" different shingles to see what the color or shape would look like on your home.
You'll also want to talk with our roofing contractors about which variety of asphalt shingles is better for you: organic or fiberglass. With different thicknesses, fire ratings, and lifespans, you'll want to know what your options are before choosing which type to put on your roof. At Race City Roofing, we offer asphalt shingles made by top companies (including GAF and Owens Corning), so you can feel secure with your new roof.