If you have a wind damaged roof in Cornelius, NC, we can help!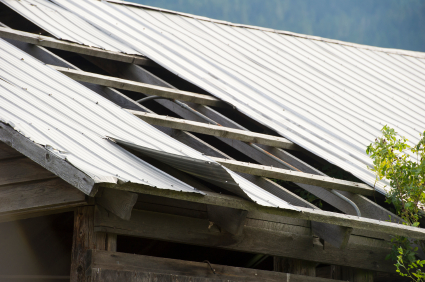 Wind Damaged Roofs – More than 400 hurricanes have battered North Carolina in its known history. In fact, only 3 other states in the U.S. (Florida, Texas, and Louisiana) have had more trouble with this type of natural disaster. And when a hurricane blows through, it can leave unthinkable destruction behind. Add to that tornadoes, tropical storms, and severe thunderstorms, and that's a lot of potential wind damage to roofs on North Carolina homes and businesses.
If your roof has been damaged or completely ruined by a hurricane or other wind storm, it is important to get your roof repaired quickly, both for the safety and security of your family and possessions and to prevent further damage to the home from water leaks. Contact us at Race City Roofing for more information about wind damaged roofs and our professional wind damage roof repair services in Cornelius, NC. We offer 24-hour emergency wind damage repair services and can be there in a flash to help you repair or replace your metal or shingle roof after minor or severe wind damage.
---
Race City Roofing is the #1 roofing contractor in the Charlotte, NC area. We offer a wide variety of professional & affordable roofing services including, "Wind Damaged Roofs" for Charlotte, Mooresville, Gastonia, Hickory, Cornelius, Huntersville, Denver, Troutman, Statesville and Lake Norman.