We are the solution for wind damaged roofs!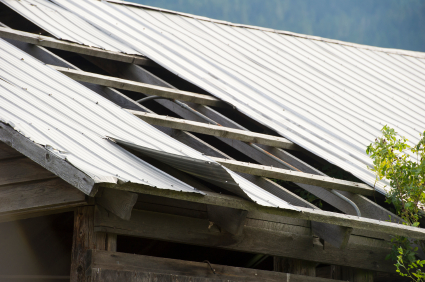 After a storm that has involved heavy winds, you probably step outside and first notice the layer of debris blanketing your yard. Looking down isn't the only thing you should do after a storm, however. You should also look up – at your home's roof! Here at Race City Roofing, we are always ready to help with wind damaged roofs and with our 24/7 response, you can get your home protected from the rain that may still be moving through the Hickory, North Carolina area.
We get several calls whenever there is a severe storm from homeowners who want peace of mind that their roof has survived unscathed. This is a safer route than getting up on a ladder, and we have the expertise to catch problems that you might miss. Let us handle the inspection and provide you with information about the condition of your roof and the costs involved if repairs are necessary.
We handle all types of wind damaged roofs, including both shingle and metal roofs. We also offer maintenance services for these types of roofs, so you can keep your roof in top condition to better survive severe storms and continue protecting your home.
Whether the damage to your roof is obvious or you aren't sure if you have a problem, don't hesitate to call on us to get an honest evaluation and a free estimate for any work that may be needed. We have served the Hickory area for more than 20 years as a trusted roofing professional. Call us today with any questions you may have about any of the roofing services we offer. We are the roofing solution you are looking for!
---
Race City Roofing is the #1 roofing contractor in the Charlotte, NC area. We offer a wide variety of professional & affordable roofing services including, "Wind Damaged Roofs" for Hickory, Statesville, Charlotte, Mooresville, Gastonia, Cornelius, Huntersville, Denver, Troutman, and Lake Norman.