Our free roofing estimates are reasonable and competitive.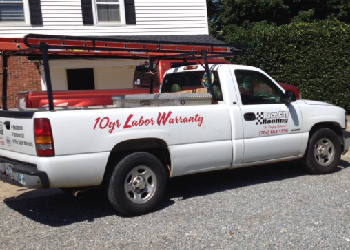 When you turn on your TV or browse the internet, you'll notice that DIY home renovations and projects are rapidly increasing. Although there are some tasks that even a novice can take on, roofing is something that should always be left to a professional. Even just walking around on your roof can be dangerous if you don't know what you're doing. At Race City Roofing, we're here to take care of all your roofing needs, whether you have a commercial or a residential building in or near Huntersville, North Carolina. We even provide free roofing estimates, so you know what to expect when the time comes to repair or replace your roof.
Our free roofing estimates are reasonable and competitive. Something that sets us apart from other roofing companies is our lifetime warranty on all our labor. Most roofing providers won't offer that type of protection. You can enjoy the peace of mind knowing your investment is protected. We also have A+ ratings with Angie's List and the local Better Business Bureau. If you have an urgent need, we can send someone to your home or office building at any time, 24 hours a day, 7 days a week for free roofing estimates.
With more than 20 years of experience, we understand the needs of our clients. Our technicians specialize in roofing services for both commercial and residential properties, so call us if you have any questions or need a roofing estimate. We will be happy to provide you with the information you need.
---
Race City Roofing is the #1 roofing contractor in the Charlotte, NC area. We offer a wide variety of professional & affordable roofing services including, "Free Roofing Estimates" for Charlotte, Mooresville, Gastonia, Hickory, Cornelius, Huntersville, Denver, Troutman, Statesville and Lake Norman.