We believe free roofing estimates for roofing work in the Mooresville area shouldn't come with strings or high-pressure.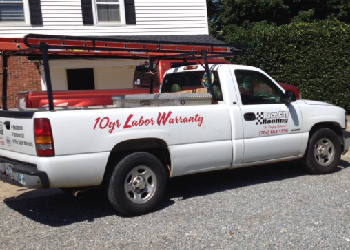 Does it seem like all roofers offer free roofing estimates? And, if so, why should it matter who you call? Here at Race City Roofing, not only do we provide free roofing estimates, but we also take the time to address all your questions, so you can make an informed decision about your new roofing or repairs. What we do differently is we don't pressure you to go for the most costly option or tell you that your roof is beyond repair when it isn't. Something else you can count on with us is that our free roofing estimates don't come with high-pressure sales to get you to sign a contract you aren't ready to sign.
We take our reputation for integrity very seriously. We live here. We're not a national chain that has no skin in the game. We respect our Mooresville, North Carolina neighbors and want to be around for many years to come. We believe being upfront and offering the best services possible is the way to accomplish that. Free roofing estimates are just the beginning. We also have an incredible warranty: lifetime labor and an extended warranty on materials that goes beyond the manufacturer's warranty. We also make sure to install all materials in the manner outlined by the manufacturer, so your warranty with them is secure.
We have served the Mooresville area for over 20 years. We have the experience to do even the most complex and elaborate roofing designs for homes and businesses. If you have questions about any of our services, including installation, replacement, maintenance or repairs, don't hesitate to call. We're also here with 24/7 emergency services when waiting just isn't possible. From free roofing estimates to lasting results, we're the only ones to call – we're the roofing solution!

---
Race City Roofing is the #1 roofing contractor in the Charlotte, NC area. We offer a wide variety of professional & affordable roofing services including, "Free Roofing Estimates" for Charlotte, Mooresville, Gastonia, Hickory, Cornelius, Huntersville, Denver, Troutman, Statesville and Lake Norman.