We can repair wind damaged roofs in no time.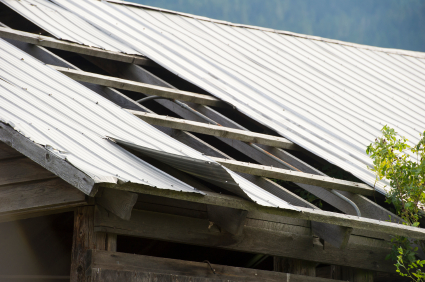 Wind damage is one of the most common types of damage that your roof can sustain. If you live in the Huntersville, North Carolina area, your roof is especially susceptible to wind damage. North Carolina is prone to hurricanes, which can cause a lot of damage to your roof. Less-severe storms can also cause wind damage. At Race City Roofing, we can replace wind damaged roofs in no time, so your roof can be safe.
Wind damaged roofs can sometimes actually be worse than they look. It might just seem like a section of shingles or metal roofing blew off of your home or commercial building. In reality, the structure of the roof could be damaged and in danger of collapsing. Since your roof provides protection for your home, it is important it be repaired so that the inside of your home is protected. Wind damaged roofs can cause your roof to leak. When water gets in, it can damage your ceilings, flooring, cabinets, and furniture. Then you could also have a mold problem to deal with, since water can cause mold to grow in 24 hours or less. It is important to have the damage assessed by a professional, so you can make sure your roof is structurally sound and safe. At Race City Roofing, we will come out to the property and give you a free estimate. We will let you know how we plan to repair the wind damage and how much it will cost. We will also work with your insurance company if you plan on filing a claim.
Contact us today at Race City Roofing if you are in need of wind damaged roof services. We even offer 24-hour emergency services and can be there quickly to repair your roof so that your home can be protected.
---
Race City Roofing is the #1 roofing contractor in the Charlotte, NC area. We offer a wide variety of professional & affordable roofing services including, "Wind Damaged Roofs" for Statesville, Charlotte, Mooresville, Gastonia, Hickory, Cornelius, Huntersville, Denver, Troutman, and Lake Norman.