Race City Roofing's professional roofing contractors, specialize in metal roof repair in Charlotte, NC and surrounding areas!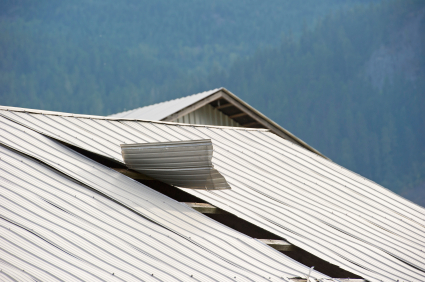 Metal Roof Repair – When metal roofs are installed, they are finished off with a sealant. Over time, that sealant can become hardened, shrink, or lose its elasticity, which can lead to leaks or other damage to the structure. That's why regular metal roof repair and maintenance are so essential for keeping your metal roof in tip-top shape.
For expert metal roof repair services in Charlotte, North Carolina, contact Race City Roofing. Inspect your metal roof regularly for leaks and make sure they are repaired as soon as possible to prevent further damage. Give us a call whenever you notice a problem that may require metal roof repair or if you would just like to schedule a professional inspection–someone is always available to answer our phones, 24 hours a day, 7 days a week.
FAQs About Metal Roof Repair Services
Many people select metal roofs because of their durability and resiliency to all kinds of harsh weather conditions, but this doesn't mean metal roofs are immune to damage. At Race City Roofing, our experienced team provides exceptional metal roof repair services to help you keep your home or building in great condition. Below, we've responded to a few frequently asked questions to give you some more information about metal roof repairs.
What are some signs my metal roof needs to be repaired?
You might notice rust or corrosion on your roof, dents, loose panels, or leaks inside your building. If your metal roof is poorly insulated, you might notice a steady increase in your energy bills as well.
What does the metal roof repair process involve?
Although the exact steps will vary depending on the extent of damage present, our crew will typically follow this basic guideline:
Thoroughly inspect the roof to gauge how much damage there is
Reattach or replace loose roofing components
Apply the proper sealant for the metal type
Check that the roof is waterproofed and fully sealed
Discuss more extensive issues with the property owner to determine if roof repairs or roof replacement would be the best option
How can I prevent needing roof repairs?
Scheduling an annual roof inspection can be a simple, affordable way for homeowners and business owners to take care of their metal roofs. When you schedule routine maintenance with our crew, you can rely on us to thoroughly check your entire roof for signs of damage and catch small problems before they can cause major damage.
---
Race City Roofing is the #1 roofing contractor in the Charlotte, NC area. We offer a wide variety of professional & affordable roofing services including, "Metal Roof Repair" for Charlotte, Mooresville, Gastonia, Hickory, Cornelius, Huntersville, Denver, Troutman, Statesville and Lake Norman.