Is your metal roof peeling or becoming unattached at the seams? Let us help with a metal roof repair.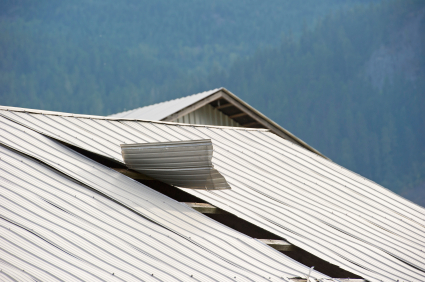 When you are looking for a metal roof repair, there's nowhere finer to look in the Huntersville, North Carolina area than right here at Race City Roofing! We can help with all types of roof repairs, including shingle as well as metal and other specialty roofing services. Metal roof repairs require the work and experience of expert hands, since metal roofing is more complex and difficult to assemble, let alone fix, than a shingle roof. If you have damages to your metal roof, our team here at Race City Roofing wants to show you that it's possible to perform a metal roof repair rather than a replacement in many cases, thereby extending the life of your roof, as well as saving you some money!
With a metal roof repair, we often need to focus on the seams and the specialized sealants that attach each part of the metal roof to another. Sometimes extreme heat can cause these seams to age and loosen over time. Other times, severe winds will blow one section of your metal roof loose and eventually it will start to peel up, and other times still, you might just be experiencing the results of poor metal roof installation.
Here at Race City Roofing, you can rely on us to take care of your metal roof repairs. Because we have been taking care of metal roofs in the Huntersville area for over 20 years now and offer a lifetime warranty on our labor, you have only a great metal roof repair to gain from our services. Give us a call today to learn more!
---
Race City Roofing is the #1 roofing contractor in the Charlotte, NC area. We offer a wide variety of professional & affordable roofing services including, "Metal Roof Repair" for Charlotte, Mooresville, Gastonia, Hickory, Cornelius, Huntersville, Denver, Troutman, Statesville and Lake Norman.